Pakistan Telecommunication Authority (PTA) has announced to ban social media websites including Facebook, Twitter, WhatsApp and Instagram till 4pm.
Sources said the Pakistan Telecommunication Authority has been directed to close down social media websites and apps for a few hours. All the social media websites will stay close till 4 PM. These social media websites and apps include Facebook, Instagram, YouTube, Twitter and TikTok.
The decision has been taken to maintain the law and order situation in the country.
The PTA took the step on the instructions of the Ministry of Interior. In a letter, it said that "complete access to social media platforms" should be suspended from 11am to 3pm.
The step comes a day after Pakistan imposed a ban on the Tehreek-e-Labbaik Pakistan. PEMRA even blocked all TV channels from providing any coverage to the banned organisation.
The authorities have in the past suspended mobile phone and internet services in the areas where the party protesters had gathered in Islamabad and parts of Punjab. This is the first time a ban has been imposed on all social media sites across the country.
Pakistan had imposed a ban on YouTube for three years in the past.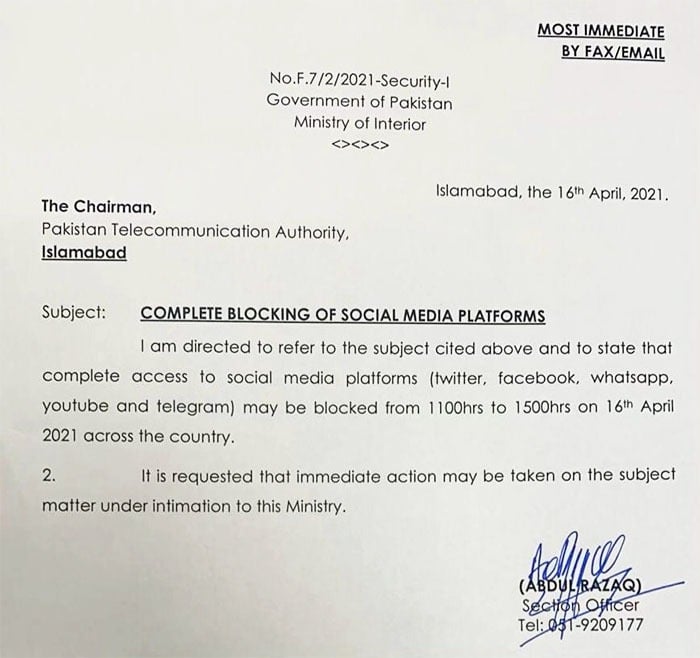 "In order to maintain public order and safety, access to certain social media applications has been restricted temporarily, sources within the PTA said.