After the PM suggestion of the famous Turkish show Ertugrul, everyone in the country now knows who Halima Sultan is, the mesmerizing character is played by Ersa Bilgic.  The actress has defended Pakistanis and bashed the Bollywood actress Priyanka Chopra Jonas.
Well all of this began with the tweet from Priyanka in which she said: "Jai Hind" referring to the pseudo surgical strike of India in Pakistan, which "destroyed" some trees.  After that, the girl named Ayesha Malik asked Priyanka a question during an audience Q&A session at Beautycon in Los Angeles, USA.  She accused her of being a "hypocrite" for supporting the Indian army and "encouraging nuclear war against Pakistan" amid a soaring clash between Pakistan and India.
To this, Priyanka replied: "Whenever you're done venting… Got it, done? OK, cool. So, I have many, many friends from Pakistan and I am from India, and war is not something that I am really fond of but I am patriotic. So, I'm sorry if I hurt sentiments to people who do love me and have loved me, but I think that all of us have a sort of middle ground that we all have to walk, just like you probably do as well."
Esra Bilgiç Reply to Priyanka
After that Esra Bilgiç commented on Instagram under a thread replying to Priyanka Chopra. She said, "Being patriotic doesn't mean that you should encourage the war. You shouldn't belong in a conversation concerning war as a UN goodwill ambassador. You effect many childern, many people as a role model. And you were so disrespectful against a woman who just asked you a question about your statement that you shared with millions people in your own twitter account."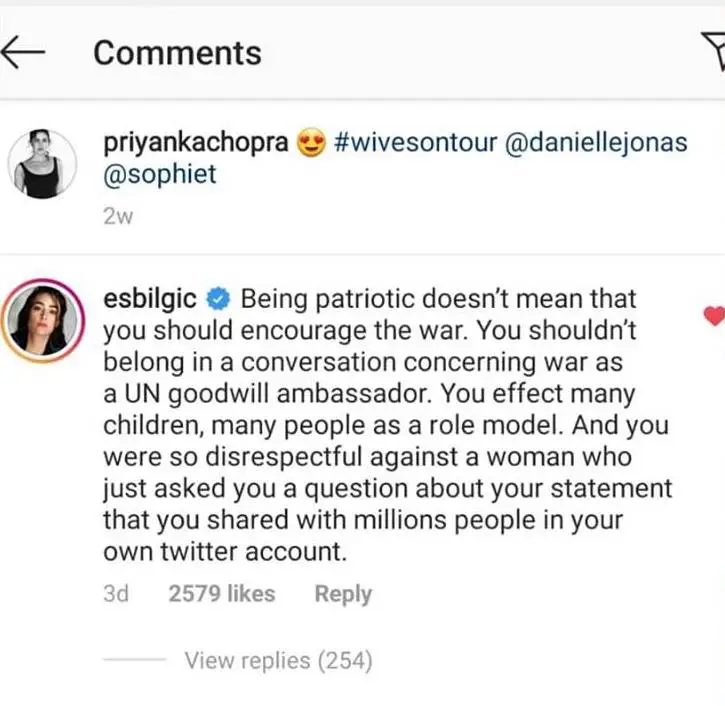 Pakistanis have supported this act of Turkish Actress Esra Bilgic.
Turk maroof adakara, Ertagrul Ghazi ki heroine, Halima Sultan.

Asal naam Esbilgic, ne indian film star Priyanka Chopra ko us waqt dho k rakh diya tha jab priyanka ne india ki pakistan par hamly ki hamayat ki thi.

Pak-Turk love,, zindabad. pic.twitter.com/JkqTNG7RHh

— Syed Moin ✪ (@moinshah235) May 8, 2020
This is when #Pakistan and #India were on the brink of war. Indian Actress Priyanka Chopra @priyankachopra was the next poison against Pakistan on #Twitter Then
Ersa Bilgic @Esbilgic Had a short answer. who is playing the role of Halima in the drama #ErtugrulGhazi #EsraBilgic pic.twitter.com/lnj3zk018A

— Abdullah Journalist (@AbdullahJournal) May 4, 2020
Do tell us in the comments section as what do you think about this.